David Carr
is the owner and director of Stringybark Ecological. He holds a Master of Resource Science and a Bachelor of Science from the University of New England. David has worked for Greening Australia, Southern New England Landcare, Catchment Management Authorities and as a consultant in senior positions for the last 30 years. He is a specialist in ecological restoration, extension theory and practise, farm forestry and bushland management. He also has experience in landscaping and garden design. He is the former manager of the national extension programs, Exchange and Florabank, for Greening Australia on behalf of the Australian Government. Dave has lived for most of his life in northern NSW and has worked across most of the Plains, Slopes and Tablelands.
"Stringybark Ecological is my business. I started the business in 2009 as a way to use my skills and experience on interesting projects. I love working with people to help them understand and manage the natural environment. I've also been able to employ some great people to help me and I work in partnership with some fantastic organisations and individuals".
More about David Carr
[li_card]
Claire Chepel
Claire Chepel is a Junior Ecologist working for Stringybark Ecological since 2020. She has a Bachelor of Zoology from The University of New England. She is passionate about both plants & animals and their ecology. She first started volunteering in koala tracking projects for Armidale Council and has since developed particular interest in koala conservation and other threatned or endangered native fauna. She has been working along side Dave with each project Stringybark Ecological takes on.
Rachel Lawrence
Rachel Lawrence is a Landscape Ecologist who has worked across a range of environments in eastern Australia – from Tasmania through to central Queensland, the Flinders Ranges and throughout NSW. Rachel is currently working with Southern New England Landcare, Stringybark Ecological and is completing a PhD studying ecological outcomes under a range of grazing management approaches. Rachel also has a strong background in insect ecology and has worked in the grains industry to increase the uptake of integrated pest management of insect pests in grain crops. Rachel is passionate about supporting land managers to use practices that optimise the availability and value of free ecosystem services in the landscape to increase the resilience of native ecology as well as the communities of people who manage those landscapes.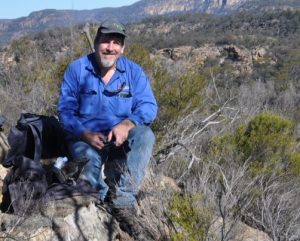 Paul Melehan
Paul is a highly skilled botanist and ecologist based in the Hunter Valley of NSW. Paul has recently worked on TSR assessment projects and searching for threatened plant species with Stringybark Ecological. https://www.linkedin.com/in/paul-melehan-aa7577121/?originalSubdomain=au