Moree Plains Shire Council was the outright winner of the NSW Roadside Environmental Management Award at the 2016 LGNSW Excellence in the Environment Awards presented yesterday. The Award was sponsored by the NSW Roadside Environment Committee. Congratulations also to Lachlan Shire Council and Ballina Shire Council which each received Highly Commended Awards. Stringybark Ecological developed the Roadside Environmental Plan, maps, surveys and signs behind the winning project.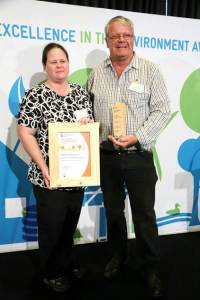 Kylie Kerr and Dennis Purse of Moree Plains Shire Council receive the outright winner award
"Council has won the NSW Roadside Environmental Management Award and we couldn't have done it without your help. Thanks Dave and this award is as much yours as it is ours. Congratulations."
Kylie Kerr, Asset Manager, Moree Plains Shire Council.